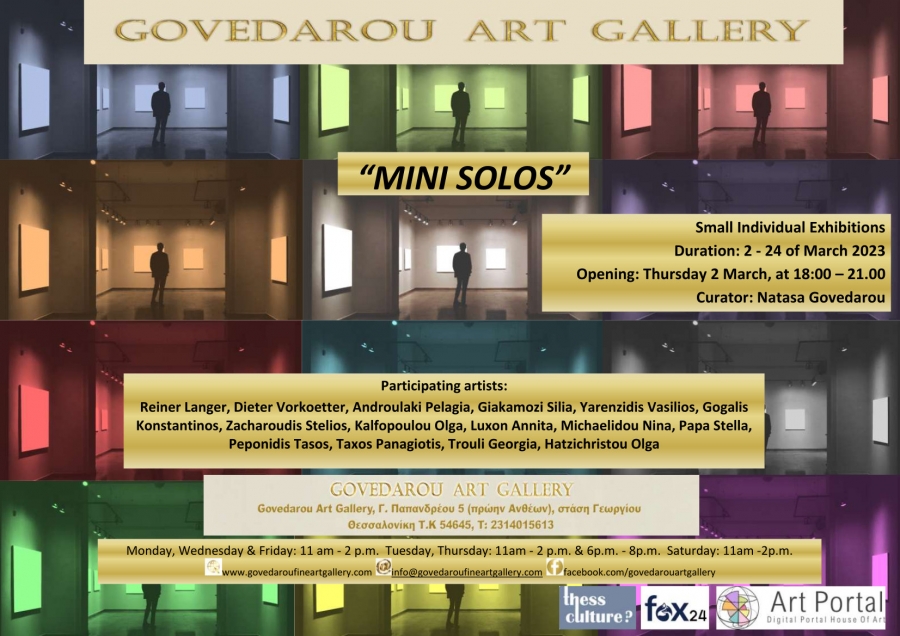 Govedarou Art Gallery presents in its premises at Georgiou Papandreou 5 (formerly Antheon), the art exhibition entitled: "MINI SOLOS", curated by the artist and owner of the gallery Natasa Govedarou.The opening of the exhibition will take place on March 2, 2023, from 6:00 p.m. to 9:00 p.m. and will last until March 24.
The theme of this exhibition is free and only 15 visual artists will participate with their works.These are essentially small individual exhibitions where visual artists will be able to show their technique with one or more themes in a beautiful presentation in a space of 2 meters wide that they will have at their disposal.
Participating artists:
Reiner Langer, Dieter Vorkoetter, Androulaki Pelagia, Giakamozi Silia, Yarenzidis Vasilios, Gogalis Konstantinos, Zacharoudis Stelios, Kalfopoulou Olga, Luxon Annita, Michaelidou Nina, Papa Stella, Peponidis Tasos, Taxos Panagiotis, Trouli Georgia, Hatzichristou Olga
Duration: 2 – 24 March 2023
Opening: Thursday, March 2, 2023, time 18:00 – 21:00
At Govedarou Art Gallery G.Papandreou 5 (formerly Antheon), Georgiou stop
Curator of the exhibition: Natasa Govedarou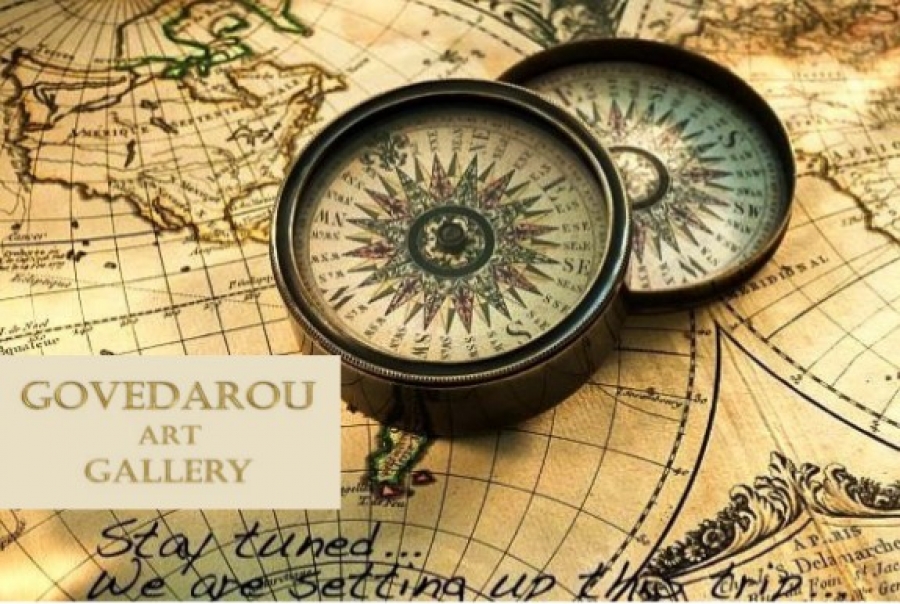 In our Smart Art shop you can find small size paintings, ceramics, artifacts made of glass and sculptures of many different artists who present their work made from various materials and technics. The cost of the works sold is very SMART. Low prices for original and unique work!!
Στη Govedarou Smart Art Gallery μπορείτε να βρείτε έργα τέχνης μικρών διαστάσεων σε πάρα πολύ προσιτές τιμές. Όλα τα έργα ζωγραφικής, κεραμικής, γλυπτικής καθώς και αντικείμενα φτιαγμένα από γυαλί είναι μοναδικά και αυθεντικά!!