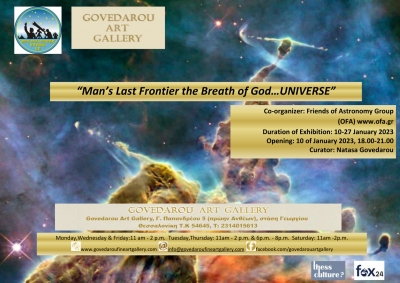 Govedarou Art Gallery in co-organization with the Friends of Astronomy Group (OFA) presents in its space at Georgiou Papandreou 5 (formerly Antheon), the group art exhibition entitled: "Man's Last Frontier The Breath of God...UNIVERSE", curated by artist and gallery owner Natasa Govedarou.The opening of the exhibition will take place on January 10, 2023.
Friends of Astronomy Group was founded in November 1997 with the aim of bringing together all those who look up admiring the greatness of the universe that surrounds us, to help spread the science of astronomy and space in our country.Ambition of O.F.A.is for everyone to expand their knowledge both generally and selectively in the areas that interest everyone.Today, 25 years after its establishment, it has 600 members.The Group includes people from all professions such as university professors, teachers, teachers, students, lawyers, bankers, workers, freelancers, while its members collaborate with NASA and ESA, and it has great distinctions in finding supernova stars, comets,study of solar eclipses, while astronomical photographs of its members have been awarded in the most important scientific journals internationally
Greeting speach from the President of the Friends of Astronomy Group (OFA), Mr. Theodore Mattas:
"The creation of an artistic work and science are phenomena of a long evolutionary process, which is directly linked to the biological, intellectual and social maturation of the human species.Science and the arts coexist and interact with each other, and are very often co-producers and co-formators of common creations!The Friends of Astronomy Group, an association founded 25 years ago with the aim of spreading the science of Astronomy is pleased to announce the co-organization together with the Govedarou ART Gallery of a group exhibition on the theme of the beauties of the Universe.We thank the curator of the exhibition Ms. Natasa Govedarou for the collaboration and we expect a result that will combine science and the arts in the most harmonious way.
Participant artists:
Nana Winter-Georgiadou, Azaria Daisy, Androulaki Pelagia, Aspridis Markos, Vizovitou Sini, Geraki Victoria, Gerouki Zoi, Giarentzidis Vasilis, Govedarou Natasa, Dimoudi Magda, Zacharoudis Stelios, Ioannidis Kallias, Karteris Efthimis, Kokkinos George, Mavroleon-Polizoidis Katerina, Michailidou Nina, Beggli Eugenia, Padis Antonis, Papalexiou Maria, Peponidis Tasos, Sarisavva Katerina, Taxos Panagiotis, Trouli Georgia, Chalkia Maria, Chatzimanoli Vasiliki
Duration: 10 - 27 January 2023
Opening: Tuesday 10 January 2023, 18:00 – 21:00
At Govedarou Art Gallery G.Papandreou 5 (formerly Antheon), Georgiou bus stop
Curator of the exhibition: Natasa Govedarou
Co-organizer: Friends of Astronomy Group (OFA)www.ofa.gr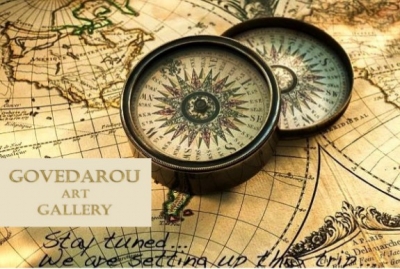 In our Smart Art shop you can find small size paintings, ceramics, artifacts made of glass and sculptures of many different artists who present their work made from various materials and technics. The cost of the works sold is very SMART. Low prices for original and unique work!!
Στη Govedarou Smart Art Gallery μπορείτε να βρείτε έργα τέχνης μικρών διαστάσεων σε πάρα πολύ προσιτές τιμές. Όλα τα έργα ζωγραφικής, κεραμικής, γλυπτικής καθώς και αντικείμενα φτιαγμένα από γυαλί είναι μοναδικά και αυθεντικά!!