Odette Feller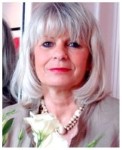 BIOGRAPHY
Signature Member of Société Canadienne de l'Aquarelle
Works of Odette Feller are a result of intuitive colours and shapes. The choice of subject comes from her inspiration. From colour association and shapes, Odette Feller gradually gives life to her subject and combines the techniques of positive and negative watercolour techniques.
A new world then appears. After the magic of mixing and mingling different colors on the surface, a kind of "puzzle" is formed by defining shapes and layering contrasts.
The subject is free. Details will complete the picture. The first brushstrokes are left natural, and loose basic washes are kept, but anchored to the forms in the background. Imagination and original style are some features in her semi-abstract compositions.
The artist has participated in numerous exhibitions and symposiums in Europe and the province of Quebec (Canada). She presents workshops (all levels) in Belgium, France and Canada. Her works have been published in many art magazines. In 2009, Odette Feller presented her latest instructional DVD entitled " « Aquarelle: Peindre en Négatif ». She won awards and honors, including the Gold Medal of the Painters of the Century in Arles, France; First Prize in Watercolor in Aiguillon, France and the Jean-Paul Ladouceur Award, Société Canadienne de l'Aquarelle. She is represented in art galleries in Europe and Quebec.
selected works >>