Deepak Rajbhar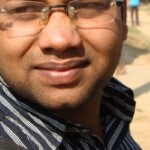 About my work Every painting is a whole new experience, a new finding.
I work in two phases in my paintings: Initially I try to put up the momentary realizations and experiences of my subconscious self. Apart from the mediums I use, nothing is pre planned for me.
Avoid of any kind of deliberate speculation. Here the canvas becomes a reflection of the moment and my state of mind at the tip of this moment, where I don't know what the object would look like and form. Once the image becomes visible, I shift to the second phase of the process, which is more conscious. Here I struggle meticulously to reach the image towards a deliberate stability.
Much like stabilizing a voracious mind. Like carving out a character, although, I believe the character is already defined in the initial phase. The second phase just makes it more apparent.
The two phases in my work process hits out for two opposite poles in character, but to me it is more of a natural combination, more obvious in relationship. Like Man and nature herself.
Of man trying to be nature himself and not copying it.
Nature erects a phenomena and man materializes / dematerializes it, carving it down to suit his eyes and level. And this dialogue continues perpetually.
Man most of the times spoils the whole thing, and same is the case with my paintings, but the struggle, of striking a harmony, goes on and keeps me alive.
SCHOLARSHIP: · Merit Award – 1999 Academy of Fine Arts Kolkata
· Annual Merit Scholarship (2000 – 2005) Kala Havana Visva Bharati Santiniketan
DATE OF BIRTH: 14th April 1980
QUALIFICATION: · B.F.A Painting Kala Bhavana,
Visva Bharati, Santiniketan,
2000 – 2005 Passed in First Class
Visva Bharti, Santiniketan,
2005 – 2007
EXHIBITIONS:
2005 Three Young Artist – Group Exhibition at Genesis Art Gallery Kolkata.
2006, Group Exhibition at Kaleidoscope, Baroda.
2006, Pratiti, A Group Exhibition at Birla Academy, Kolkata.
2006, Sisutirtha, A Group exhibition at Birla Academy.
2007, A group show at Art n Soul, Mumbai.
2007, A group show at Canvas art gallery, Kolkata.
2007, A group show at Suruchi art gallery, Noida, Delhi.
2008 Harmony Show in Mumbai.
2008 Group show at India art gallery, Pune.
2009 group show in ganjes art gallery as' new blood '
2009 group show in gallery deference as' naretive moments'
2009 ' bridge to world 'group show in London at IMA
2010 kolka Dhaka –group show in Bangladesh
2010 bridge to world-2 group show in London at IMA
2010 group show, narrative moments, in hungry
2010 for-way tree group show by narrative moments in Chennai
2011 east –west group show in emami- chisel, Kolkata
2012-solo show in gallery blue spade. Bangalore
2012 group show in Delhi in latit kala academy
2013 group show in alincefransis Delhi
2013 group camp in Haryana by tag organization
2014,artist residency in Jakarta, gallery blue spade
selected works >>