Jorgji Gjikopulli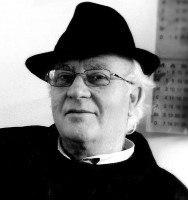 Jorgji Gjikopulli was born in 1939 In Athens, Greece. Graduated in 1964 at the Artistic Lyceum "Jordan Misja" in Tirana and in 1969 at the Arts Academy of Tirana, he started to work for a year as a docent at the National Art Gallery. Until 1982 he was Inspector at the Culture and Education Ministry.
Being a Professor and Head of the Painting Department at the Academy of Fine Arts in Tirana for almost 26 years, until 2006, didn't stop him from continuing to create. In 1999 he opened a solo exhibition at the National Art Gallery. In 2014 he returns with another solo exhibition in Tirana and in 2015 with the exhibition "Identities" in Skodra City Hall Gallery. In March 2017 he had his last solo exhibition called "Where I was, where I want to be". There's something that brings together all his works, before and after the '90s, the colors and the ways he plays with them. The entire work of Jorgji Gjikopulli is a much esteemed painter among art lovers, critics and curators inside and outside his country.
Many of his works are part of private collections in Albania, France, Greece, England, USA, Sweden, Turkey and Algeria. Twelve of his works are part of the National Art Gallery in Tirana Albania.
Selected works >>