Laurence Ginailhac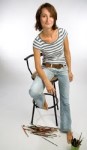 Laurence Ginailhac is from France and she is born in 1967
From early age Laurence Ginailhac has been painting and drawing.
At the age of 19 she graduates from the school of Arts &Crafts.
In that department, she instructed for 6 years and also grew her own artistic style during 20 years.
In her travel to the States, she finally receives an excellent short-term instruction in classical art, and choses to pursue this kind of art form.
In 2011, Laurence Ginailhac entered at last the Russian Art Academy where she deepened her skills in classical art for the last 4 years.
She develops creative ideas in a figurative fashion including beauty and enhancing the meaning of it: harmony & order.
She now, applies to the second and last year of the Master program in the Russian Academy.
She is strongly motivated to fulfill a 20 years dream to have a professional career in the arts holding the vision to raise as an artist the portrayal of true beauty and emotions conveying an inspiring and Godly message to the viewer.
She wants to be representing a mark of quality and be qualified in the professional field of Figurative Academic Art.
Diplomas & studies:
1988 – Arts & Crafts degree in Bordeaux, France
2005 – Associate degree in Fine Arts, University of Nations, USA
2008 – Bachelor degree in Counseling University of Nations, USA
Exhibitions:
2004 – University of Nations, USA
2005 – Tennessee, USA
2011 – Geneva, Switzerland
2012 – Lausanne, Switzerland; Yverdon, Switzerland; Geneva, Switzerland
2013 – Geneva, Switzerland
2014 - Geneva, Switzerland
Instruction experience:
1991 – 1997: teacher in Arts & Crafts, France
2009 – 2011: teacher in Fine Arts University of Nations, Switzerland
2011 – 2015: Student in Russian Art Academy, Florence, Italy on Master degree Program, and will graduate in June 2016.
selected works >>