Georgia Galinou-Giavropoulou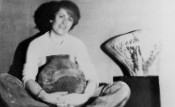 BIOGRAPHY
She was born in Katerini. She lives and works in Thessaloniki where she has a permanent workshop and display room.
She studied ceramics – sculpture at the Chelscea School of Art of London, after a four year scholarship granted by EOMMEX(1972-1976).
During the years 1976-78 she taught ceramics at the school of XEN-EOMMEX at Thessaloniki. Her work has been displayed at over 75 personal and group exhibitions all over Greece, and many of her works have been acquired by private and public collections.
Two of them, on wall compositions of mixed technique, are at central offices of the General Bank of Greece at Athens and Thessaloniki and at the Cultural Centre of the Municipality of Serres.
After the first long period of her occupation with her object of studies, the ceramics she seeked to express herself through sculpture and mixed techniques with strong elements of artistic expression (colour, lines, drawing patterns, raw materials etc.)
selected works >>