Manolis Dragogias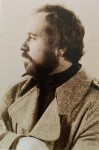 BIOGRAPHY
He is born in Lefkopigi of Kozani, Greece in 1933. In 1962 he moved to Hamburg, Germany, where he studied painting for about two years in the studio of Al. Georgi. There he specializes in spatula and receives the effects of impressionism. In Germany, as he later said, he was moved and inspired by the lessons of the Munich School. In 1964, he returns in Thessaloniki and teaches at the private school of "Korais".
The subject of his paintings focuses on landscapes with rivers, lakes, seas and coasts, dockyards and fishing boats, but also in the everyday life of the village and the folklore events. He has an inclination to the Impressionistic Plain Air Painting, with influences from the seascapes of the Russian painter Ivan Aivazofski (Ivan Aivazofski, 1817 - 1900) and the landscape painter Ivan Siskin (Ivan Shishkin, 1832 - 1898).
With exhibitions across Macedonia, through the landscapes of Kozani, Veria, Kastoria and Chalkidiki or through the portraits of people of the village and the sea, he strongly expresses his feelings about the hard struggle of life in rural areas. For the painting of human figures he is using anthropocentric forms.
Works of Manolis Dragogia are in the Town Hall and the Folklore Museum of Kozani, as well as in other public and private collections. Among these paintings are: "October 11, 1912" (representing the liberation of Kozani), "Fishing boats anchored", "Boats on the beach", "Composition with fishing boat, pebbles and sea", "Holy Monastery of Great Lavra of Mount Athos" etc. He has done many exhibitions in Greece and abroad.
In 2010, Manolis Dragogias was honored by the Municipality of Kozani with the silver medal of the city, by completing 55 years of artistic creation.
selected works >>