Stelios Zacharoudis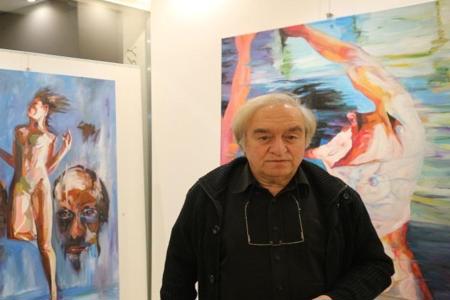 Stelios Zacharoudis was born in Thessaloniki. He studied design, graphic arts and interior-exterior design. From 1978 to 1983 he studied painting next to the professor and painter EVA BATSLACOVA in the Academy of Fine Arts of Prague, in Czechoslovakia. At the same time, he attended set and costume designing classes at the Department of Set Designing of the same Academy. While living in Munich, Western Germany and later in New York, working closely with the painter A. ZARCOSIAN, he learned and studied the new trends in painting, which affected his own evolution.
In 1983-1984 he met the world-famous gallery owner Alexandros Iolas and, with his encouragement, he started experimenting with colors and aphaeretic depiction. Past experiences, images and deep feelings started searching for a way out. The classic iconic reality is absent in terms of shape and form.
He uses both oil colors and mixed techniques and he focuses in real and imaginary subjects, tending towards surrealism and psychography. During this phase his paintings show well-shaped figures, intense distortion, introverted colors and continuous lines.
He has exhibited his works in 15 personal and 16 collective exhibitions in Greece and abroad.
PERSONAL EXHIBITIONS
1978 "FEX" ART HALL, XANTHI
1981 "N" GALLERY, MUNICH, GERMANY
1984 GOETHE INSTITUT ART HALL, THESSALONIKI
1989 ART HALL OF THE 5TH DISTRICT OF THE MUNICIPALITY OF THESSALONIKI
1990 GOETHE INSTITUT ART HALL, THESSALONIKI
1991 GOETHE INSTITUT ART HALL, THESSALONIKI
1992 HISTORIC-LAOGRAPHIC MUSEUM OF KOZANI
2000 MINENV, LOCAL GOVERNMENT OF THE WIDER THESSALONIKI AREA FOR THE WORLD ENVIRONMENT DAY
2001 ART HALL OF THE ARCHITECTURE CENTER OF THESSALONIKI
2002 "ART TOWER" ART HALL, VARVAKIOS AGORA, ATHENS
2003 "EPSILON" ART HALL, THESSALONIKI
2004 "EU AGONIZESTHAE" ART HALL, MYLOS
2008 DEL ARTE CAFÉ, ROYAL THEATER HALL
2011 "Dorms of the former Kodras Camp" ART HALL
2011 "REMEZZO" MULTI-HALL, MUNICIPALITY OF KALAMARIA
2014 VAFOPOULEIO CENTER OF ART THESSALONIKI
2019 GOVEDAROU ART GALLERY, THESSALONIKI
MAIN COLLECTIVE EXHIBITIONS
1977 "KYKLOS" GALLERY, THESSALONIKI
1978 "CAPSIS" HOTEL, THESSALONIKI
1981 "Q" GALLERY, LONDON, ENGLAND
2000 ART HOUSE MYLOS, THESSALONIKI
2000 "HOMERION" CULTURAL CENTER, CHIOS
2000 MUNICIPAL GALLERY OF LARISSA
2001 "EPSILON" ART HALL, THESSALONIKI
2001 MUNICIPAL LIBRARY – MUNICIPAL MUSEUM OF KAVALA
2002 ARTISTIC EVENTS, MILOS
2002 "EPSILON" ART HALL, THESSALONIKI
2003 ANCIENT OLYMPIA, CULTURAL SYMBOLS, MUNICIPALITY OF ANCIENT OLYMPIA
2003 "OENO-PLANA", MYLOS ART HALL, THESSALONIKI
2003 "GIFT'S OF ART", MYLOS ART HALL, THESSALONIKI
2004 INTERNATIONAL ART FESTIVAL, CHANIA
2004 ART HALL OF THE HISTORY MUSEUM OF BUCUREST, ROMANIA
2005 MUNICIPAL GALLERY OF MYKONOS
selected works >>