George Politis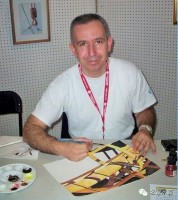 BIOGRAPHY
George Politis paints in watercolours and lives in Thessaloniki in Greece.
His paintings won many awards, including the "Commended Award in Watercolor", "Best Watercolor" and "Best Mixed Media" at the International Juried Exhibitions, Australian Society of Miniature Art in Australia; the President's Award , the Da Vinci Award and twice the "Award of Excellence" in the Arizona Watercolor Association Members Shows (2001, 2007, 2011).
He has participated in the Royal Institute of Watercoulour Painters' famous exhibitions in London, England (2000-2014) and is signature member of RI since 2006. His paintings have been selected three times for the American Watercolor Society's exhibitions in New-York and he is signature member of this society (AWS) since 2007. He also has participated in International Exhibitions of the National Watercolor Society, Watercolor West, the San Diego Watercolor Society and the Arizona Watercolor Association, USA, North East Watercolor Society (where he won two awards and is signature member), USA, among others.
He had solo exhibitions, including: Reims (France, 2013), Myro Gallery (Thessaloniki , 2013), Techni Gallery (Kilkis, 2013), Piraeus Bank Convention Centre (Thessaloniki 2010), Geni Tzami, Thessaloniki, 2006, Hellenic Centre, (London, 2002), Gallery 47 (London, 2001), Aristotelion University in Thessaloniki and Katerini St-Fotios in 1999; Rodopouleio Center, Larissa in 1998; exhibition of the Organization of the Cultural Capital of Europe at City Hall of Thessaloniki, 1997; Municipality of Thessaloniki, 1996.
He has also participated in numerous group exhibitions in Greece and in international exhibitions and contests, like the Royal Institute of Painters in Watercolours in London, American Watercolor Society and National Watercolor Society in USA, Arizona Watercolor Association, North East Watercolor Society, Pikes Peak Watercolor Society, San Diego Watercolor Society (USA), Royal Miniature Society and Society of Botanical Artists Exhibitions in London, International Miniature Shows in England and in the United States of America etc.
George Politis was invited and participated in the 1st Watercolor Salon of Qingdao (China, 2014) and 1st Biennial of Watercolor of Qingdao (2015). One of his paintings is now in the collection of the Museum of Arts of Qingdao.
George Politis has served as juror in National and International watercolor exhibitions and he is the organizer and curator of the Thessaloniki Biennial of Watercolor ("Watercolor International - Greece").
His paintings are featured in art books and catalogs.L'Aquarelliste, the Société Canadienne de l'Aquarelle's color magazine published one article on Miniature painting featuring some of his paintings, Spring 2000. International Artist published an article on his painting approach in 2001. Other articles and paintings have been published in The Artist, UK (2000, 2002), L' Art de l' Aquarelle (2012) and several other magazines. His work is featured in "Le Grand Livre de l' Aquarelle" by Janine Gallizia.
selected works >>